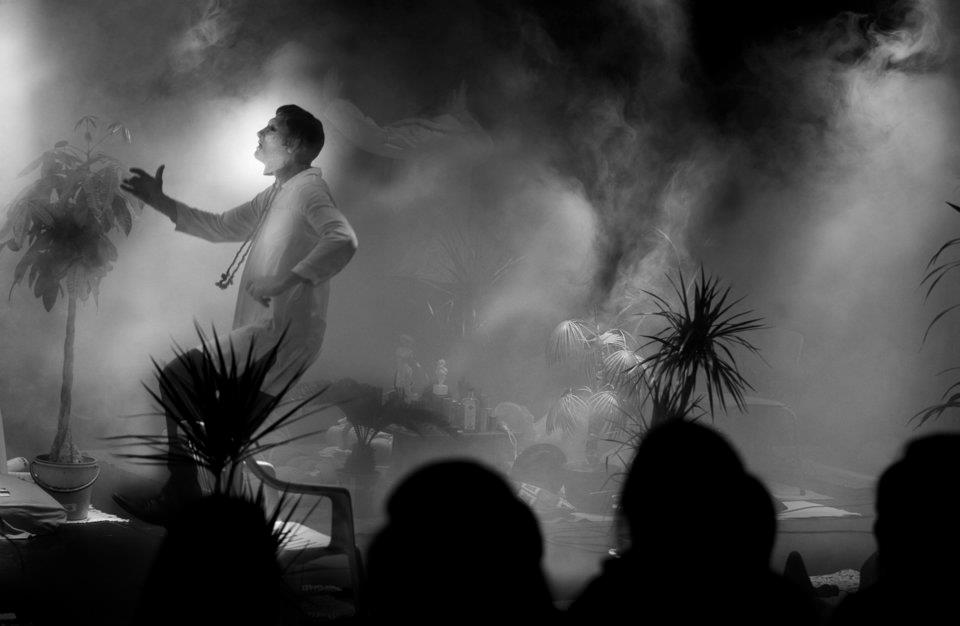 Daniel Wedel's new play:  Build Me a Mountain! with Theatre VERK could be seen at Blackbox, Oslo, from the 24th of November to December 3rd 2011. On tour from April  2012.
See tour plan at verkproduksoner.no
The play opened  at Baltic Cirkle Festival, Helsinki, Finland on November 17th 2011.
Build Me a Mountain! is VERK´s second performance about people revolting against God because they want to definine their own reality. The performance circles around the themes: How to relate to our own time and how to continue to live when all the illusions are gone.
Make me a mountain, not one of those half-finished ones like God created because he only had six days.

(From "Mr Puntila and his man Matti")
Build Me a Mountain! is a story about two persons, the Finnish playwright and business-woman Hella Wuolijoki and the German playwright Bertolt Brecht and their creative encounter in Marlebäck in the Finnish countryside during the summer of 1940. Verk has found diaries, letters, stories and plays from that decisive period and will blend fictional scenes with the  documented material.
Build me a Mountain! is also a story about exile and escapism. Maybe it was in protest or helplessness that they made an alternative reality in the Finnish countryside, as opposed to the harsh reality surrounding them: Europe was burning while they took refugee on an island of fiction, telling each other stories, discussing world peace and writing plays together. One main question they examined in different approaches was "the art of being human in an inhumane and complicated world." Brecht writes: The play "Puntila" means hardly anything to me, the war everything, about Puntila I can write virtually anything, about the war nothing. The theatre company VERK believes this extraordinary encounter has a story to tell us today.
The Norwegian theatre-company VERK is known for their epic and vaudevillesque form of acting with satirical and political undertones changing swiftly between storytelling, acting and improvisation.
The human being cannot be jailed even if the body is
chained, the human being glides out between your hands
and laughs at those who is trying to punish her, she glides
away like a dragonfly, on the seagulls wings or on the lovers
arm...

Hella Wuolijoki
Read more about VERK and Build Me a Mountain!